Meet Lynne Beck
Lynne A. Beck, LPCC-S, CDCA (Ohio) and LPC (PA)
Credentials & Experience
Licensed in Pennsylvania and Ohio
Youngstown State University M.S. Ed in Community Counseling
Penn State University B.S. in Human Development and Family Studies
A sign hanging in my office says: "It is never too late to live Happily Ever After". The fact that you are considering engaging in counseling shows you believe in personal change as well. Regardless of what stage of change you are in, I welcome the opportunity to provide active and reflective listening to address your specific goals for counseling encompassed in my therapeutic training including, but not limited to, cognitive behavioral therapy, person-centered counseling, solution focused therapy, narrative therapy, motivational interviewing, and existential counseling. Research indicates an individual's faith is and can be an important coping skill. An integral part of existential counseling provides a safe place for an individual to explore their faith as it intertwines with their life story. It is my goal to provide a non-judgmental, caring and safe environment for you to share your story, identify your goals, and begin your journey to personal change.
I had the privilege of working at Turning Point Counseling Services, a full serviced community mental health practice offering psychiatric services, crisis unit, alcohol and drug outpatient services, pharmacological services, community psychiatric support team services, mental health counseling and group services. In addition to providing mental health counseling, I led two groups "Insights", a motivational group about change, and "Joypression", a support group for individuals struggling with depression. Formerly, I worked at Greentree Counseling Services and in addition to providing counseling services, led a parenting group in the Warren school, and also led groups at the Beatitude House targeting women's issues (relationships, communications, self-esteem, anger management, and health and wellness). In addition, I volunteer my time as a divorce recovery group facilitator assisting individuals heal through the pain of separation and/or divorce.
Start a telemedicine call with
Mrs. Beck
Areas of Competence
Diagnose and Treament of Mental and Emotional Disorders encompassed in:
Individual Counseling
Marriage & Family Counseling
Group Therapy
Specific focus for the adult population includes:
Depression/Sadness
Low self-esteem
Grief/Loss
Anxiety and stress
Social Phobia/Social Anxiety
Panic Disorder
Post-Traumatic Stress Disorder
Obsessive Compulsive Disorders
Relationship conflicts/problems
Codependency
Anger issues/management
Women's Issues
Therapy for adult victims of abuse
Meet Cheryl Hanaway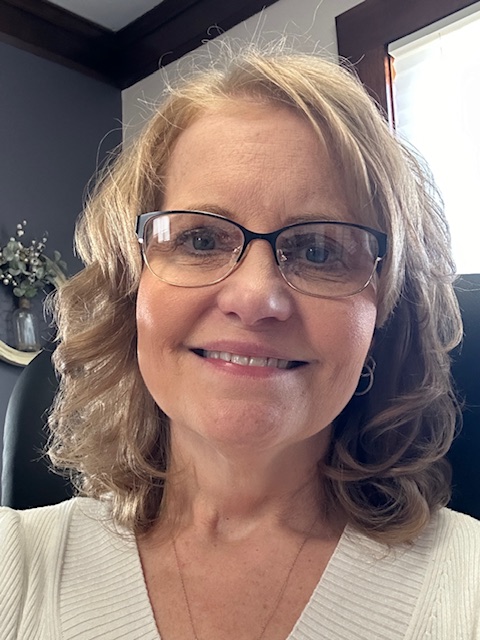 Cheryl Hanaway, MA LPC CADC-CS LICDC (OH)
Credentials & Experience
Licensed in Pennsylvania and Ohio
Slippery Rock University M.A. in Counseling with a Specialization in Addictions
Westminster College B.A. in Psychology
Cheryl Hanaway is a Licensed Professional Counselor and a Certified Alcohol and Drug Counselor. She has been working in the field for over 25 years and has specialties in couples counseling, addictions including sexual and gambling, mental health disorders, domestic violence, trauma and divorce issues. She is trained in EMDR (Eye Movement Desensitization and Reprocessing) and is trained in CISM (Critical Incident Stress Management).
Cheryl graduated from Westminster College with a Bachelor's Degree in Psychology. She completed her Master's Degree in Counseling with a specialization in addictions at Slippery Rock University.
Cheryl is sometimes accompanied by her certified therapy dog, Candy, who is an inspiration to those who meet her. Candy is a 3-legged boxer Shepherd who is a cancer survivor. In her spare time, Cheryl enjoys her family most of all. She also engages in volunteer work at the New Life Food Pantry and at Club Pet.
Her mission statement is to follow God's word "He comforts us in all our troubles so that we can comfort others. When they are troubled, we will be able to give them the same comfort God has given us." (2 Corinthians 1:4)
Areas of Competence
Diagnose and Treament of Mental and Emotional Disorders encompassed in:
Individual Counseling
Marriage & Family Counseling
Group Therapy
Specific focus for the adult population includes:
Specialization in EMDR
Christian counseling
Parenting issues
Children of divorce
Foster/adoption issues
Recovery from affairs
Addictions:

Drug/alcohol, sexual, gaming
Compulsive gambling

Depression/sadness
Anxiety and stress
Obsessive compulsive disorders
Post-traumatic stress and trauma
Women's issues
Domestic violence and abuse
Co-dependency/COA issues
Anger issues/management